Home

/

Shun Classic Granton Chefs Knife 20cm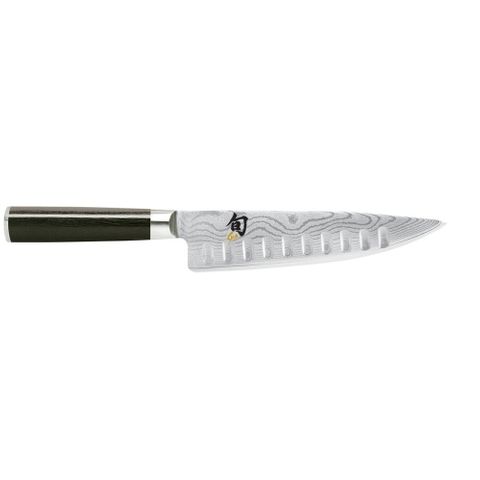 Shun Classic Granton Chefs Knife 20cm
Description
The Shun Classic Granton Chefs Knife is shaped in the traditional European style and is an all purpose knife suitable for chopping, shredding, cutting, slicing and cubing all meat, fish and vegetables. The Granton (or scalloped) blade eases cutting and helps separate food from the blade.

This Granton Chefs knife is extra-special because of the hollow-ground indentations on the side of the blade. They create small air pockets that reduce friction when cutting, making it easier to glide through the cut. If you've had problems with sticking, try this hollow-ground blade. Otherwise, use this Granton Chefs Knife as you would any other chefs knife—for slicing, dicing, and chopping small to medium-sized fruits, vegetables, and other foods. With its curved belly, the chefs knife can be gently ""rocked"" through fresh herbs or spices to produce a very fine mince.

All Shun Classic knife purchases come in a beautifully presented gift box.
Cutting Edge: Hand-sharpened 16° double-bevel blade
Steel: Proprietary VG-MAX cutting core, 34 layers each side (69 total including core) stainless steel Damascus cladding
Hardness: 60 HRC
Blade Length: 20cm
Handle: D-shaped ebony PakkaWood®
Origin: Handcrafted in Japan