Home

/

Shun Classic Slicing Knife White 23cm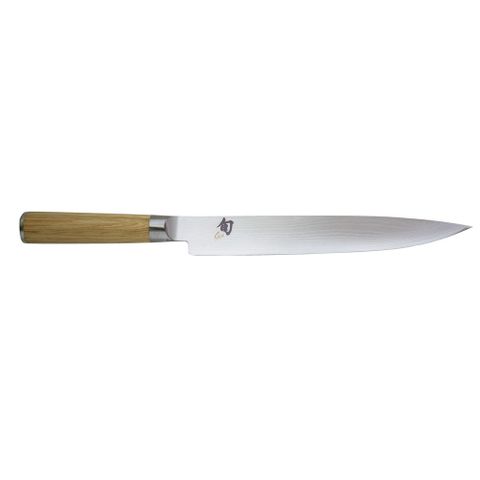 Shun Classic Slicing Knife White 23cm
Description
The beautiful Shun Classic Slicing Knife in an ashwood-coloured handle has a long and extremely sharp blade which enables thin slicing of meat, ham and fish with a single slice. Perfect for sashimi.

The 23cm Shun Classic Slicing Knife enables you to cut thin, even slices. With the knife's longer length, narrower blade, and Shun-sharp edge you can make long, even slices without tearing or sawing. This kind of clean cut keeps more of the meat juices—and thus more of the flavour—inside the meat, rather than pooling on the cutting board. The Shun Classic Slicing Knife's 23cm blade means you can cut slices with a single, long stroke. The narrow profile and razor-sharp Shun edge let the blade glide through the meat with less friction so each slice is perfect. Ideal for slicing a wide variety of meats and fish with a single slice.

All Shun Classic knife purchases come in a beautifully presented gift box.
Cutting Edge: Hand-sharpened 16° double-bevel blade
Steel: Proprietary VG-MAX cutting core, 34 layers each side (69 total including core) stainless steel Damascus cladding
Hardness: 60 HRC
Blade Length: 23cm
Handle: D-shaped ashwood coloured PakkaWood®
Origin: Handcrafted in Japan