Home

/

Shun Classic 2 Piece Carving Set with Gift Box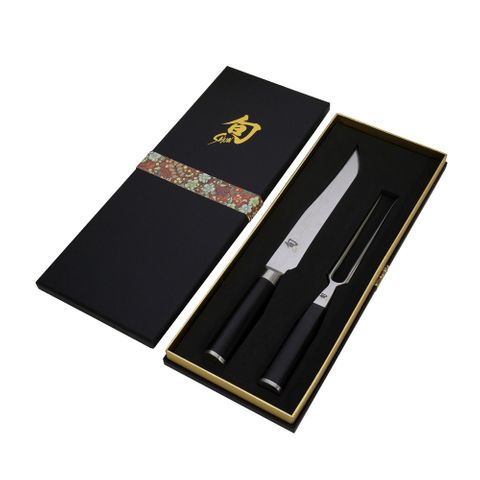 Shun Classic 2 Piece Carving Set with Gift Box
Description
The Shun Classic 2 Piece Carving set is beautifully presented in a special Shun wooden gift box. Each set contains a Shun Classic Carving Knife 20cm (DM0703) and Shun Classic Carving Fork 16cm (DM0709).

The Shun Classic 2-Piece Carving set includes the 20cm Carving Knife and Carving Fork in a wooden boxed gift set. Achieve the perfect slice of meat or poultry with the Shun Classic 20cm Carving Knife. It's the right knife whether you want to carve paper-thin or thick and juicy slices. The razor-sharp blade makes a cleaner cut, which helps keep more of the juices—and more of the flavour—trapped in the meat. The longer blade means you can make precise slices with a single stroke, while the pointed, narrow tip lets you to cut meat away from the bone with ease. Turkey, beef, or the delicate flesh of a salmon—the Shun Classic Carving knife handles them with ease, keeping the flavour sealed in and making sure your tableside presentation is perfection itself.

The carving set is in a beautifully presented wooden box for storage or gift-giving.
All Shun Classic knives:
Cutting Edge: Hand-sharpened 16° double-bevel blade
Steel: Proprietary VG-MAX cutting core, 34 layers each side (69 total including core) stainless steel Damascus cladding
Hardness: 60 HRC
Handle: D-shaped ebony PakkaWood®
Origin: Handcrafted in Japan