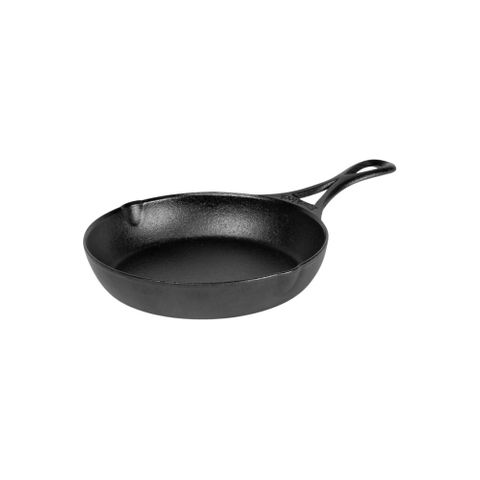 Lodge Blacklock Skillet 18cm
Description
Blacklock triple seasoned, lightweight cast iron cookware is a new gourmet line that celebrates the company's storied past while debuting great strides of advancement in the cast iron category. From the Lodge foundry, the new Blacklock pieces are at least 25% lighter so easier to lift, carry and handle and triple seasoned, creating naturally non-stick heirlooms to enjoy for generations.

With ""63"" cast into the iron, this 18cm skillet marks the year 1863, when Joseph Lodge left his Pennsylvania home in search of work, where he soon began training as a machinist.

Just as this skillet celebrates the beginning of the Lodge journey, it is the perfect vessel to use as you welcome each new day with a hearty breakfast.

Additional features:

- Extended, raised handle stays cooler longer,
- Sloped, spatula-friendly sidewalls.
Triple Seasoned:
Blacklock, like all Lodge cast iron, has natural cooking oil baked onto the surface. This forms a protective layer for an easy-release finish. The difference? Blacklock is seasoned three times, making the surface naturally non-stick.
The more you cook with your cast iron, the better the seasoning.
Treat your Blacklock investment just as you would Lodge Cast Iron.
Top Inside Width: 18cm
Height: 3.7cm
Total Width: 18.5cm
Total Length (to end of handle): 28.4cm
Weight: 0.82kg
Made in USA.