Home

/

Sets

/

Zip Top Full 8 Piece Set - Bag, Cup & Dish in Teal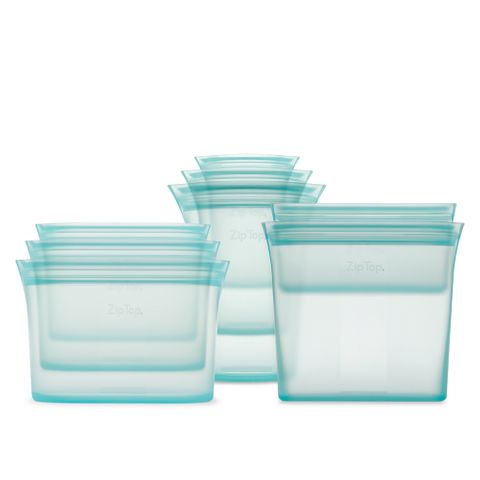 Zip Top Full 8 Piece Set - Bag, Cup & Dish in Teal
Description
Zip Top are endlessly useable 100% platinum silicone containers and do away with single use plastic bags and containers.

The complete 8 piece collection of Zip Top silicone containers in one convenient set. Includes 3 cups (s/m/l), three dish storage containers (s/m/l), 1 snack and 1 sandwich bag. Even better, the containers either stack or nest to take up less space in your cupboards.

Easy to clean in the dishwasher and the rounded edges mean food doesn't get trapped in corners.

Use Zip Top containers for food prep, cooking, lunches, left overs, snacks on the go, travel, food storage, crafting and just about anything you can imagine.
8 Piece set includes;
3 cups (Small 237ml, Medium 473ml & Large 710ml)
3 dishes (Small 473ml, Medium 710ml & Large 946m)l
2 bags (Snack 118ml & Sandwich 710m
Easy to use stand-up containers
Stays open and zips shut
Food grade 100% platinum silicone
Microwave, freezer and dishwasher safe
Single-piece construction with no glue - won't rip or tear
No BPA, lead, PVC and phthalates
Made in USA