Home

/

Finex

/

Finex Cast Iron Skillet with Lid 30cm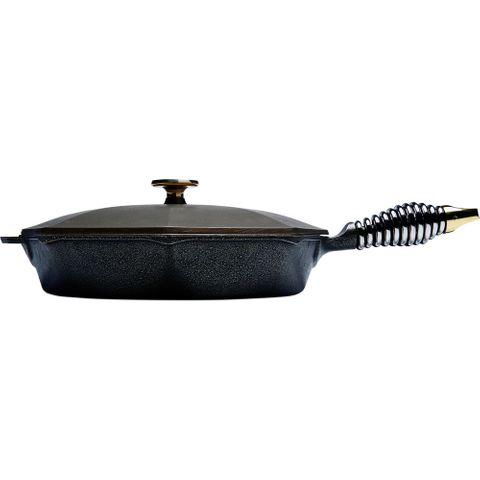 Finex Cast Iron Skillet with Lid 30cm
Description
Old-fashioned quality. Ultra-modern design.

The most versatile pan you'll ever own. The FINEX 30cm cast iron skillet is polished smooth for perfect eggs every time. It's a searing machine for hearty steaks, chops and salmon. It's brilliant for baking perfect pies and cakes. With the lid it will steam, braise and simmer. From stovetop, to oven, to grill—even over the coals—the FINEX cast iron skillet is a trusted essential you'll pass down for generations.

The lid has dual rings on the underside to collect steam that boils off and drips it evenly back onto your dish, avoiding the soggy edges and dry centre than can occur in some slow cooking.

Unique characteristics of Finex include; patented octagonal multi pour shape, ergonomic speed-cool spring handles, ultra-polished easy release cooking surface and hand seasoned with organic flaxseed oil so it is ready to use right out of the box.
Cooking Surface: 25cm
Total Width: 30cm
Height: 8.6cm
Total Length (to end of handle): 47cm
Weight (with lid): 6kgs

Handmade in USA.