Home

/

Shun Kanso Granton Santoku Knife 18cm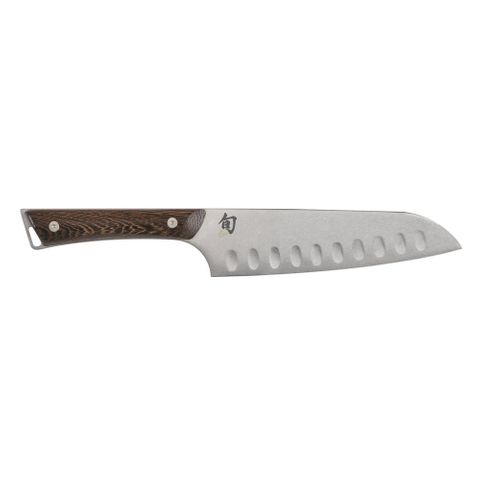 Shun Kanso Granton Santoku Knife 18cm
Description
Kai Shun Kanso 18cm Granton Santoku knife, a Japanese knife with multi-purpose in your kitchen much like a traditional chefs knife.

The Shun Kanso 18cm Santoku is a beautiful, Asian-inspired chefs knife that many cooks today have added to their kitchen favourites. A knife of many talents, a santoku easily handles all the basic kitchen cutting tasks. In fact, some people even prefer it to a chefs knife. Slightly shorter than the standard chefs knife, the Shun Kanso Santoku is very easy to manoeuvre. There's just enough belly curve to enable rocking cuts, which just adds to the knife's versatility. We think you'll find that this distinctive kitchen knife works beautifully and fits your hand like a glove. As easy to use as a chefs knife, the santoku is especially well suited to a down-and-forward cutting motion (push cut). Many cooks swear by their santoku for easy food preparation and top performance.

All Shun Kanso knives are presented in an attractive gift box.
Cutting Edge: Hand-sharpened 16° double-bevel blade
Steel: Heritage finish Japanese AUS-10A high carbon, vanadium stainless steel
Hardness: 60 HRC
Blade Length: 18cm
Handle: Full tang construction fitted with a contoured Tagayasan (iron sword wood) riveted wooden handle
Origin: Handcrafted in Japan