Home

/

Shun Kanso Utility Knife 15cm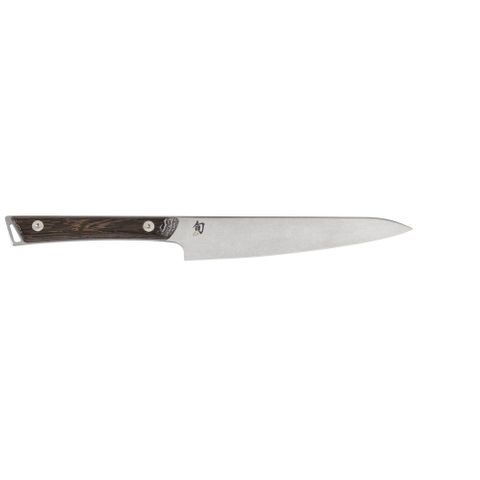 Shun Kanso Utility Knife 15cm
Description
Kai Shun Kanso 15cm Utility knife, a multi-purpose knife that is between a paring and chefs knife. Great for precise knife work.

In size, the Shun Kanso 15cm Utility Knife is between a chef's knife and a paring knife, but its blade is narrower and straighter. It's perfect for a multitude of small tasks where more precise cuts are needed, such as trimming broccoli, green beans, or other smaller vegetables. Some cooks like to use it in their hand, too—almost like a large paring knife or petty knife. Others like its smaller size as an alternative to the chef's knife. Its very slightly curved belly enables it to do moderate rocking cuts. It's nimble enough to peel an onion in hand, then slice it up in short order.

All Shun Kanso knives are presented in an attractive gift box.
Cutting Edge: Hand-sharpened 16° double-bevel blade
Steel: Heritage finish Japanese AUS-10A high carbon, vanadium stainless steel
Hardness: 60 HRC
Blade Length: 15cm
Handle: Full tang construction fitted with a contoured Tagayasan (iron sword wood) riveted wooden handle
Origin: Handcrafted in Japan