Home

/

Lodge

/

Lodge Pro Griddle Reverse 51 x 26.5cm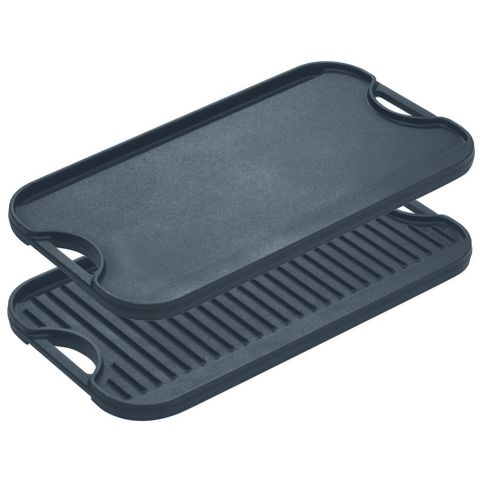 Lodge Pro Griddle Reverse 51 x 26.5cm
Description
Lodge pre-seasoned Pro-Griddle features a reversible grilling surface for both flat and ribbed indoor and outdoor grilling. Generous cooking area, fitting over two stovetop burners. Includes a grease gutter. The Pro-Griddle has easy grip handles for convenience and comfort.

Suitable for induction cooktops with a bridge element

Cooking surface 42 x 20cm.
The 50cm Pro-Griddle/Grill (LPGI3) is compatible with induction cooktops. When using our double burner items on induction cooktops, your stove should have a bridge element to ensure the cookware heats evenly (and to prevent a cool spot in the middle). Helpful tip: preheating cast iron slowly helps to ensure more even heating.
Griddle/Grill cooking surface:
42 x 20cm
Height: 2.1cm
Griddle/Grill Base Measurement (for induction cooktops with bridge element): 51 x 27cm
Weight: 6.12kg
Made in USA.