Home

/

Lodge

/

Lodge Chef Collection Griddle Reverse 49 x 25cm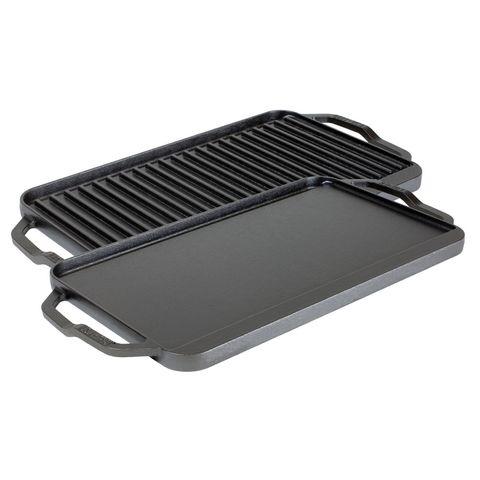 Lodge Chef Collection Griddle Reverse 49 x 25cm
Description
This 49x25cm Chef Collection Reversible Grill/Griddle provides excellent heat retention and distribution, and fits over two stovetop burners.

With a design inspired by chefs, this grill/griddle has new lifted handles for an ergonomic grip and better control, no matter which side you're using. Each side also includes a drip tray to catch any grease, keeping your food lean and delicious. The large cooking surface is great for pancakes and eggs, grilled chicken, and steak. Seasoned to bring out rich flavors, this reversible grill/griddle is bound to become a favourite for years to come.

- Seasoned with 100% natural vegetable oil for an easy-release finish,
- Chef-inspired design,
- Ergonomic handles for improved control,
- Use in the oven, on the stove, on the BBQ, or over a fire,
- Great for induction cooktops with a ""bridge"" element.
Griddle/Grill cooking surface: 41 x 21cm
Height: 1.9cm
Griddle/Grill Base Measurement (for induction cooktops with bridge element): 45 x 25cm
Total Griddle/Grill size (including handles): 49 x 25cm
Weight: 4.79kg
Made in USA.
The 49cm Grill/Griddle (LCDRG) is compatible with induction cooktops. When using our double burner items on induction cooktops, your stove should have a bridge element to ensure the cookware heats evenly (and to prevent a cool spot in the middle).  Helpful tip: preheating cast iron slowly helps to ensure more even heating.