Home

/

Bialetti

/

Bialetti Ring/Filter Blister Aluminium 4 Cup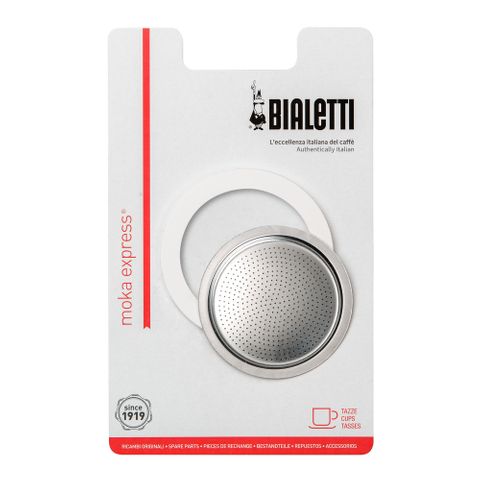 Bialetti Ring/Filter Blister Aluminium 4 Cup
Description
Replacement Ring & Filter Pack contains 1 ring and 1 filter.

Suitable for:
- Bialetti Moka Express 4 Cup,
- Moka Induction 4 Cup
- NOT suitable for Brikka 4 Cup. Please order 109833AP (6 Cup Ring/Filter)

If you are unsure which size coffee pot you have, please measure the existing ring and/or filter and compare using the Specifications Tab.
Moka Express, Moka Induction, Dama, Mini Express, Break models

Ring (mm)

Filter
Dia (mm)

Inside Dia

Outside Dia

1 cup^

40

51

47

2 cup

41

57

50

3 cup

50

65

57

4 cup

50

65

57

6 cup

55

71

64

9 cup

63

81

73

12 cup

74

90

82

^Pack contains 3 rings and 1 filter