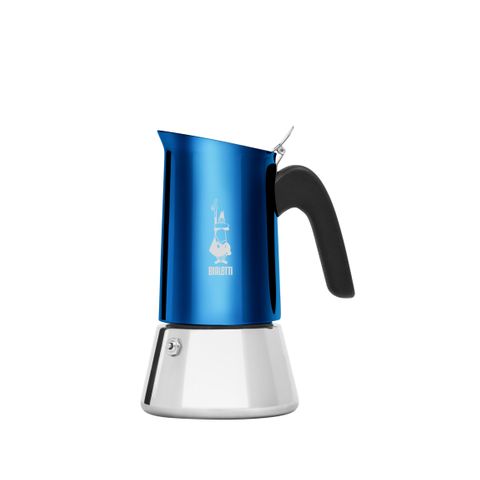 Bialetti Venus Induction 6 Cup Blue
Description
The most popular of our stainless steel stovetops, the Bialetti Venus now available in a striking blue. The stunning metallic blue is achieved through Physical Vapour Disposition (PVD) treatment. This process produces a surface that is attractive, hard wearing and long lasting.

A functional style with a practical, drip-less pouring spout, it is constructed from food grade 18/10 stainless steel and has an ergonomic, heat-resistant handle with secure anti-slip grip and features Bialetti's patented safety valve.

To produce an authentic espresso in minutes, simply fill the bottom with water to just below the valve, add your favourite espresso ground coffee to the funnel and gently heat on your stovetop.

Please note, the cup size refers to an espresso cup which is approximately 30mls.

Material:
- Stainless Steel
- 4, 6 and 10 cup sizes are suitable for induction.
Material: Stainless Steel
Total height: 20cm
Base width: 10.5cm